As you may already know, when  iTunes 10.0.1 update came out, it brought along the Ping drop-down on each individual song. If you're not a fan of Ping like myself, here is an easy way to remove it on a Mac.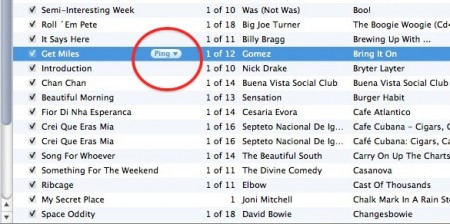 There are two parts of Ping: the Ping sidebar can be removed with a click, but the drop-down menu needs a quick trip to the Mac OS terminal:
Quit iTunes. Open Terminal (Mac only).
Copy this line (in one line), and hit enter: defaults write com.apple.iTunes hide-ping-dropdown -bool TRUE
You might need to authenticate. When you open iTunes 10.0.1, the Ping drop-down menu will be gone.
Repeat the command with FALSE instead of TRUE at the end, if you want to bring it back.
Also check out the following tweaks for iTunes 10:
[Via Obama Pacman]